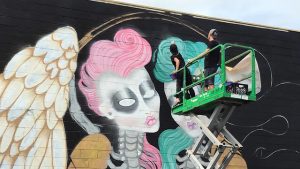 October 6-14th 2018, artist from around the World came to St. Petersburg, FL to add their massive creations to the Mural City of Florida! SHINE Mural Festival in St. Petersburg, FL is one of the top rated Mural events world-wide. This year, 13 top artist from around the globe have added to the outdoor art gallery, Downtown St. Petersburg!
Join me as I tour the murals LIVE on my Facebook Page. Here is the live post of the mural pictured in the top header: https://www.facebook.com/rob.johnson.79230/videos/10215145054232448/
Be sure to read about the artist on this page:
https://stpeteartsalliance.org/shine-mural-festival/
If you want to see murals from past years, download this map:
https://stpetemuraltour.com/map-of-st-pete-murals/
St. Petersburg is one of the best city's in the world for artists. Our city thrives on the arts and creates a place where art is the priority. Be sure to tune in Live to see more of the outdoor art gallery of Downtown St. Petersburg, FL.
If you are looking to move to the city of art, please give us a call, 727-262-7920.