Best Italian St Pete Beach is Buona Restaurant.   Located at 4705 Gulf Blvd in St. Pete Beach, FL 33706, holds a special place in our hearts as our favorite Italian food destination in the area. With its charming ambiance, warm hospitality, and delectable cuisine, Buona Restaurant has consistently delivered an exceptional dining experience.
Best Italian St Pete Beach:  Atmosphere
Upon entering Buona Restaurant, guests are greeted by an inviting atmosphere that blends rustic Italian charm with a touch of coastal elegance. The cozy interior is adorned with tasteful decor, creating a welcoming and intimate setting for diners to enjoy their meals.
One of the standout aspects of Buona Restaurant is their menu, which features a delightful selection of classic Italian dishes prepared with a contemporary twist. From appetizers to desserts, each dish is crafted with care and attention to detail. In addition, The restaurant takes pride in using fresh, high-quality ingredients, which is evident in the vibrant flavors that grace every plate.
For starters, the antipasti offerings at Buona Restaurant are a must-try. From the delicate bruschetta topped with ripe tomatoes and fragrant basil to the creamy burrata paired with prosciutto di Parma, these appetizers set the stage for a memorable culinary experience. The menu also boasts a variety of homemade pasta dishes, such as perfectly cooked fettuccine Alfredo, rich and hearty lasagna, and delicate ravioli stuffed with flavorful fillings.
Best Italian St Pete Beach:  Seafood
Seafood lovers will find themselves in paradise at Buona Restaurant. The restaurant's close proximity to the coast allows for the freshest catches to be incorporated into dishes like linguine alle vongole and seafood risotto. The seafood is expertly prepared, ensuring that each bite is a delectable taste of the sea.
Buona Restaurant also offers a range of mouthwatering meat and poultry options. From tender veal scaloppini to juicy chicken Parmesan, these dishes showcase the artistry and skill of the kitchen. The menu also includes vegetarian and vegan options, ensuring that every guest can find something to suit their tastes.
To complement the dining experience, Buona Restaurant boasts an extensive wine list featuring a curated selection of Italian wines. The friendly and knowledgeable staff are more than happy to offer recommendations to enhance the flavors of your meal.
The impeccable service at Buona Restaurant further elevates the overall experience. The staff members are attentive, well-informed, and always ready to cater to guests' needs. Their genuine passion for Italian cuisine and dedication to customer satisfaction make every visit to Buona Restaurant a delightful and memorable one.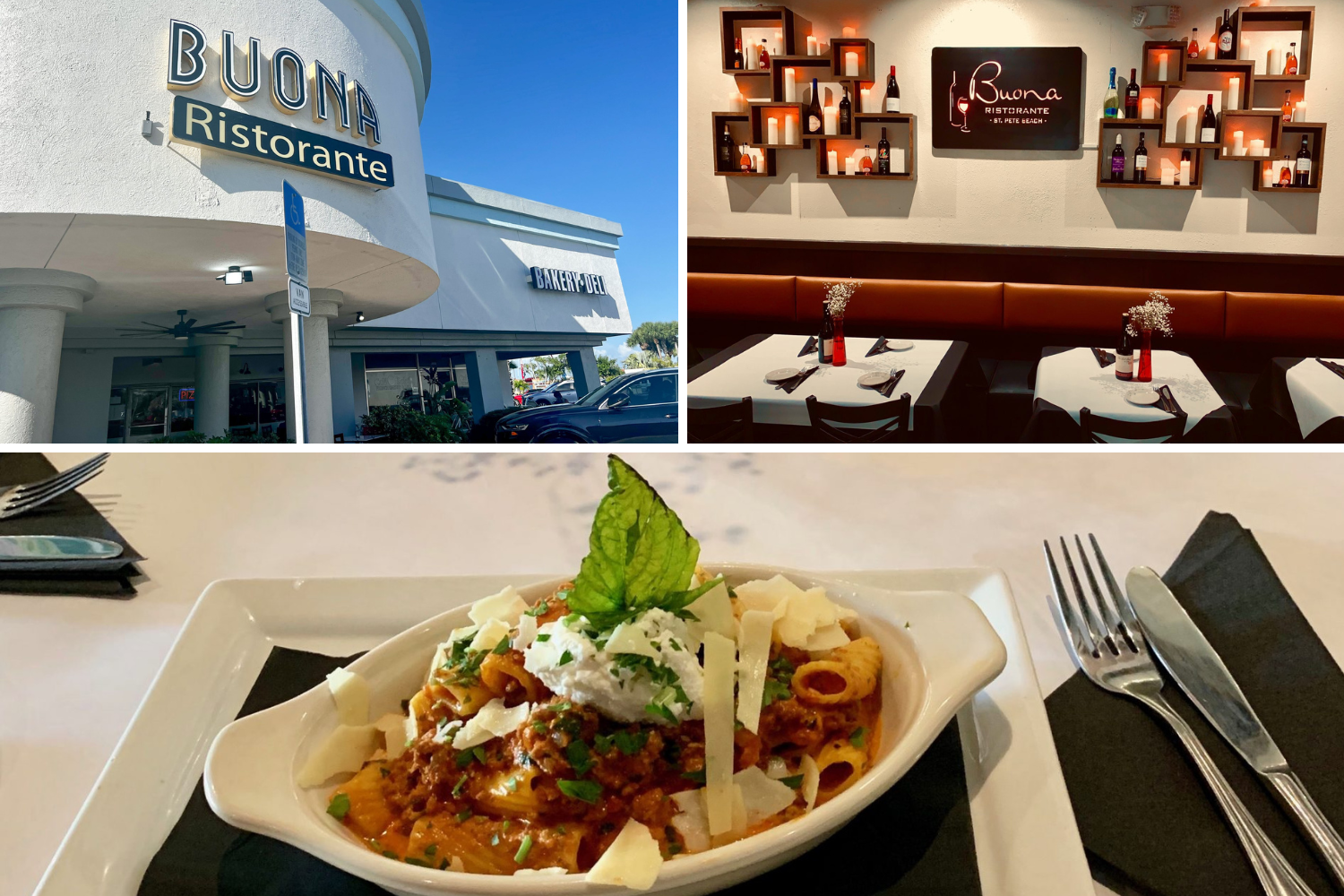 Best Italian St Pete Beach:  Conclusion
In conclusion, Buona Restaurant at St. Pete Beach has rightfully earned its place as our favorite Italian food destination. From the charming atmosphere and impeccable service to the mouthwatering dishes that showcase the best of Italian cuisine, Buona Restaurant continues to impress and delight diners seeking an authentic and memorable dining experience on the beautiful shores of St. Pete Beach, Florida.
Additionally, Buona Restaurant goes above and beyond to cater to the diverse preferences and dietary needs of its patrons. The menu offers a range of gluten-free options, ensuring that those with gluten sensitivities can still indulge in the flavors of Italy.  Moreover, The chefs are accommodating and can often modify dishes to meet specific dietary restrictions or preferences, allowing everyone to enjoy a satisfying and delicious meal.
The desserts at Buona Restaurant are the perfect ending to a fantastic dining experience. Indulge in classic Italian treats like tiramisu, cannoli, or panna cotta, all expertly crafted and bursting with flavor. Also, Each dessert is a sweet symphony of textures and tastes, leaving guests with a lasting impression of the culinary journey they have embarked on at Buona Restaurant.
Best Italian St Pete Beach:  Additional details
Another noteworthy aspect of Buona Restaurant is its commitment to creating a welcoming and inclusive environment for all. The restaurant prides itself on its friendly and inclusive atmosphere, where guests of all backgrounds and ages feel comfortable and valued. Additionally, Whether it's a romantic dinner for two, a family celebration, or a gathering with friends, Buona Restaurant provides a space to cherish and where memories can be made.
The location of Buona Restaurant is also worth mentioning. Situated in the heart of St. Pete Beach, it offers a prime spot for a dining experience after a day of sun and fun. The restaurant is just steps away from the beautiful sandy shores and sparkling waters of the Gulf of Mexico, making it an ideal choice for those seeking a delectable meal with a view. Furthermore, Whether you're a local resident or a visitor to the area, Buona Restaurant is a convenient and enticing option for satisfying your Italian food cravings.
Furthermore, Buona Restaurant frequently hosts special events and promotions, adding an extra element of excitement and variety to the dining experience. From wine tastings to themed dinner nights, these events showcase the restaurant's commitment to creating memorable experiences for its guests. It's always worth checking their website or social media pages to stay updated on the latest happenings and take advantage of any enticing offers.
Best Italian St Pete Beach:  Locally sourced ingredients
One aspect that sets Buona Restaurant apart is its commitment to sourcing ingredients locally whenever possible. By supporting local farmers and artisans, they ensure the freshest and highest quality ingredients in their dishes. From locally caught seafood to organic produce, every bite at Buona Restaurant reflects a dedication to supporting the community and promoting sustainable practices.
Moreover, the attention to detail extends to the presentation of each dish. The culinary team at Buona Restaurant takes great pride in creating visually stunning plates that are as pleasing to the eye as they are to the palate. From vibrant colors to artistic plating techniques, the presentation adds an extra touch of elegance to the dining experience, making each dish a feast for all the senses.
In conclusion, Buona Restaurant at St. Pete Beach stands as a shining gem in the realm of Italian cuisine. With its inviting atmosphere, exceptional service, and a menu that highlights the best of Italy's culinary traditions, it has rightfully earned its place as our favorite Italian restaurant in the area. Whether you're seeking a romantic evening, a family gathering, or simply a delicious meal by the beach, Buona Restaurant is the perfect destination. Immerse yourself in the flavors and warmth of Italy, and allow Buona Restaurant to create a dining experience that will leave a lasting impression on your taste buds and your heart.
Visit Our Website by clicking here:  www.AvalonGroupTampaBay.com